Another day ... more games & more drama!
The results for rounds 2 & 3, as well as the provisional draw for round 4 is available at
ChessChat
.
Again its a daily summary rather than a live blog, but nevertheless, there were plenty of interesting games & happenings to keep everyone on their toes!
Round 2 notes:
Narenthran-Xie
Xie is a pawn up with an advantage in a Sicilian
Solomon-Penrose
Penrose has traded into an ending with Solomon, which seems to favour Solo slightly.
Gluzman-Brown
Brown has somehow picked up a piece in the opening & seems to be winning comfortably.
Tan-Ying
An interesting middlegame has developed with Tan having two minor pieces for a rook.
The almost but not quite award goes to the last game finished in the round between Damien Feaine & John Beckman. This game was very hard fought, in spite of the apparent mismatch (Damien being unrated and fairly new to chess & John being rated in the 1700s) & the ended up with an ending of bishop, knight & 3 pawns v 2 kinghts & 3 pawns. Damien blundered a pawn & then gave up a piece for two of John's pawns, leaving John with a bishop (white-squared), knight & a-pawn against Damien's knight & a-pawn. There was a position where Damien could have exchanged knights & potentially got into a bishop & wrong-coloured rook pawn v king ending, but he missed this chance & John eventually won Damien's a-pawn, promoted his own a-pawn & eventually checkmated Damien ... but a good fighting game by both players!
Not sure which of the top board games gets the nod for best game, so I'll put two games up.
The first is Solomon-Penrose, which sees Solomon's endgame technique being as good as ever:
The second game is Davis-Illingworth, where Davis looked to have a good position, and maybe even a slight edge in the early middlegame, but eventually Max got his bishop pair working as Tony ran low on time, before finally blundering a piece:
Round 3 notes:
Xie-Cheng
Xie has used an unusual move order to get into a quiet Semi-Slav, which is something I haven't seen Bobby play too often.
Morris-Solomon
Morris has 2 pieces for a rook, but his pieces appear to be tied up & Solomon has active pieces ... could be anyone's game!
Illingworth-Brown
Looks like a theoretical Sveshnikov Sicilian.
Missed opportunity of the round goes to Bobby Cheng, who missed an amazing move near the end of his game against George Xie. He has been worse for much of the game & has just begun to turn the tables in his favour (after his 32...Bxf3!) & they reached the following position after George's move 35.g4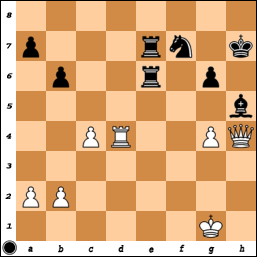 Here Bobby missed the spectacular 35...g5!! which leads to a winning position for black after both 36.Qxh5+ Rh6 when the queen is trapped ... or a queen retreat (to g3, f2 or anywhere on the h-file) which runs into 36...Re1+ followed by 37...R7e2 & again the queen is lost!
The Xie-Cheng clash is well worth playing through, both for the opening play by George, the enterprising middlegame play by both players & in particular the fight back from Bobby, which ultimately ended in a perpetual check: