The first round of the event eventually got off to a start, largely due to Melbourne's untimely bad weather & traffic, with a number of players walking in the door as I was about to announce the pairings. Eventually we had 37 players for the day, meaning 18 boards of action ... and there was definitely some action!
The full results for round 1 & provisional draw for round 2 can be seen on
Chesschat
Although I was unable to blog live from MCC as I had initially hoped, I will share some of my notes on some of the games as they were in progress:
Xie-Hain
Hain has grabbed the b2 pawn in a Sicilian, although Xie seems to have plenty of compensation for the pawn. Eventually Xie managed to plant a knight on d6 & the game was over not too long afterwards.
Loh-Solomon
Loh has played a passive (e3) line against the Semi-Slav & Solomon now has good piece play against Loh's IQP.
Morris-Puccini
Morris has planted a knight on e6 & appears to have an overwhelming position.
Illingworth-Kenmure
Something has gone horribly wrong for Kenmure in a Rubinstein French ... first f7 fell & not long after the game was over!
Narenthran-Rujevic
Narenthran is a pawn up out of the opening & Rujevic is deep in thought trying to get some play.
Garner-Chew Lee
A very unusual symmetrical position has arrisen from a Queen's Gambit Declined!
Dale-Gluzman
Gluzman has somehow won a piece after playing the King's Indian Defense.
Strange position of the round ... Garner-Chew Lee ...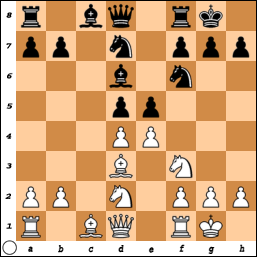 Yes, it did start out as a Queen's Gambit Declined!
And a game from the top boards to finish ... this time James Morris' quick win over Jack Puccini, who goes astray rather quickly in the opening.
Morris-Puccini