The
Australasian Masters
is a 10 player round robin IM-norm event that has been held in Melbourne on an almost-annual basis since 1987. This year was very much a triumph for youth, with the tournament ending in a three-way tie between IM James Morris, FM Bobby Cheng & Anton Smirnov, with Anton winning the title on countback (he beat both James & Bobby in their individual games).
Throughout the tournament there were quite a number of well played games, although there were also the occasional blunder or inaccuracy. The two games (or game & position) I want to highlight are Arkadius Kalka's quick demolition of Eddy Levi in round 6, as well as an amazing tactic missed by Luke Li in his round 2 game against James Morris.
Arkadius 'takes the bait' against Eddy & the game is decided shortly afterwards, but not how Eddy was hoping!
In the following position, James Morris has just played 44.Ra8 against Luke Li, who had been defending a worse position for most of the game. Here, the game continued 44...g2 45.Rxa7+ Kf8 46.Ra8+ Kf7 47.Ra7+ Kf8 with a draw, but Luke missed the stunning shot 44...Rg5+! This allows the king to hide from rook checks on d6, while also blocking the white rook's path to g1, so black will be able to promote the g pawn & have a winning (although still tricky) ending.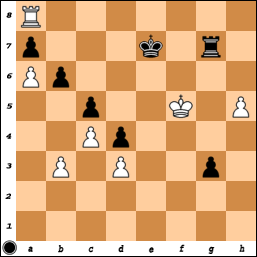 This was the first time I was directly involved in the tournament, although I only attended the venue (
Box Hill Chess Club
) on a few occasions during the event. My involvement came in the form of editing the tournament bulletins, which were produced for the players on a daily basis. The Bulletins from the tournament can be downloaded as a Zip file from
4Shared
(hopefully this remains in place for a reasonable length of time - if not send me an email & I'll send the bulletins to you). Feel free to post any comments you might have about the bulletins & what can be improved in the future.
I have also uploaded a
PGN file
of games from the tournament.
To finish the post, I have added some photos from tournament organiser
Leonid Sandler
.
A relaxed start to the game between Bobby Cheng & James Morris
James Morris after playing the winning Rg8+ against Eddy Levi