The Stojic train keeps on rolling ... with second seed Dusan Stojic winning yet another game to move to an undefeated 6/6. Guy West's recovery from a slow start saw him win yet again, this time against FM Chris Wallis, to move into outright second place on 5/6, setting up a likely Stojic-West round 7 clash.
Carl Gorka & Mirko Rujevic drew their game, which allowed Domagoj Dragicevic & Richard Voon to join them on 4.5/6, and they head the chasing pack, with a further 7 players behind them on 4/6.
In other results, David Beaumont stole a point in a rook ending when his opponent Bokso Mijatovic lost his rook. Laurent Michaille continued his good form with a win over Jim Papadinis, while Richard McCart beat Justin Penrose, who is having a tournament he would rather forget.
The game between Anthony Hain & John Beckman had quite an unusual opening, beginning 1.e4 Nc6 2.d4 e5 3.d5 Ne7 4.f4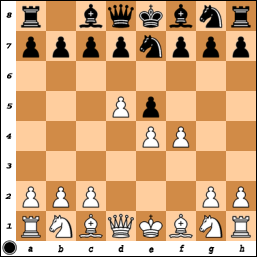 Here Beckman uncorked the novelty 4.f5 ... unfortunately it is simply a poor move in the position & he struggled to remain in the game, but Hain later blundered & allowed Beckman to achieve a winning position, before he finally blundered & allowed Hain to win in the end.
As usual, results are posted, along with the current crosstable, on
Chesschat
.
This week's game is the West-Wallis clash from board 2